37PCS All-In-One Gel Nail Polish With Lamp Nail Kit for Beginners - 10 Colors
🎁Enjoy Multi-type Free Gift orders over $59/$69/$109/$129/$159/$179
✈️Shipping within 2 business days
✈️Free returns within 30 days
💰Subscribe & save BIG for first order
customers are viewing this product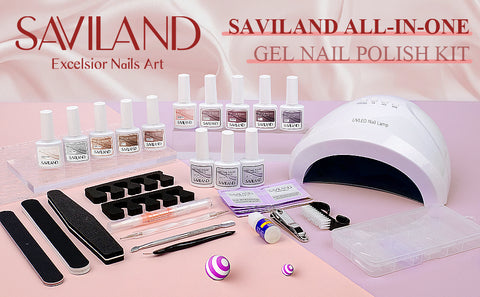 Product Specifications:
Brand: Saviland
Capacity: 10ml/0.35oz each bottle
Colors:10 Colors
Package Includes: Package Includes:
10 Colors gel nail polish
1pc matte top coat
1pc glossy top coat
1pc base coat
1pc nail file
2pcs nail buffers
1pc cuticle pusher
1pc cuticle fork
1pc cuticle oil pen
1pc dotting pen
1pc nail dust brush
1pc 48W nail lamp
10pcs nail polish remover pads
1pc nail separator
100pcs nail tips
1pc nail clipper
1pc nail glue
Used For: Nail art, nail design, French Nails, Manicure, Gel Nail Polish Design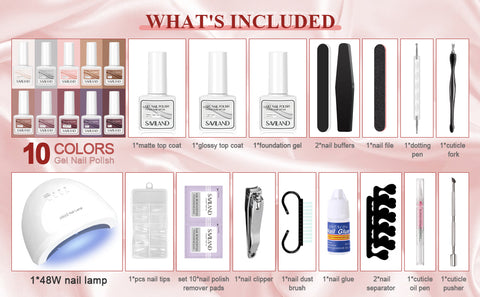 Features:
1. Saviland all-in-one gel nail polish kit contains 10 different charming colors, 1pc base coat, 1pc glossy top coat, 1pc matte top coat and many manicures tools to meet your diverse needs, a variety of colors at your disposal, to create personalized nails.
2. The gel polish not only can be a flat painting but also can be used for nail embellishments, and nail decoration.
3. With strong fluidity, easy to apply, full of color, simple and easy to use.
4. Suitable for various nail types and various nail pieces.
5. The finished nail art effect depends on what kind of top coat you apply. The glossy top coat has a shiny gloss effect, and the matte top coat has a matte effect. Keep the color for a long time, has good stability and toughness, not easy to peel off.
6. The color gel nail polish is made of natural resin, low odor, is non-toxic, and no harm to the human body.
7. Suitable for the professional nail salon or DIY at home.