Nail Dehydrator and Primer Set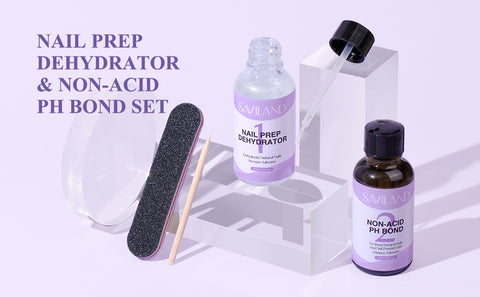 Product Specifications:
Brand: Saviland
Capacity: 30ml/1.01fl.oz
Colors:Clear
Package Includes: 1*30ml nail prep dehydrator, 1*30ml non-acid PH bond, 1*wooden stick, 1*nail file.
Used For: Preparing the nail plate to create a foundation in any professional artificial nail application.
?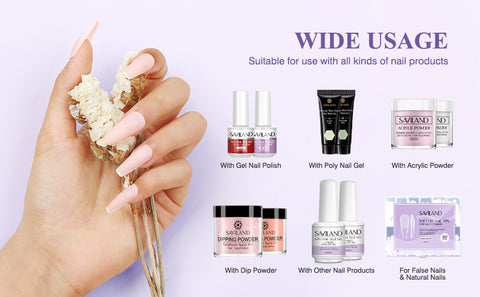 Features:
1. Nail dehydrator can help remove the grease or dirt from the nail surface. The non-acid PH bond can enhance the tackiness of the nail surface.
3. This set of nail prep dehydrator & non-acid PH bond are can be perfectly matched with all U V gel nail polish, acrylic/dip powder, and liquid products
4. New upgraded 30ml large capacity design, more affordable, easy to store and not easy to leak, suitable for long-term use.
5. The nail prep dehydrator and acid-free PH bond are suitable for all kinds of nail types and fake nail tips, after using them will more shiny, smoother, and have good stability, and toughness, to create strong and durable extension nails.
6. Made with plant-protection ingredients and healthy formula, no irritating smell, non-toxic and harmless to nails and the human body, product safety.
7. It can maintain the color and luster for a long time, not easy to fall off, lasting up to 21 days or more.
8. All the brush heads are made of artificial fiber, the hair is fine and not prickly, the fine brush head is easy to apply.