Gel Nail Polish Remover with Nail Cuticle Oil - Strawberry
🎁Enjoy Multi-type Free Gift orders over $59/$69/$109/$129/$159/$179
✈️Shipping within 2 business days
✈️Free returns within 30 days
💰Subscribe & save BIG for first order
customers are viewing this product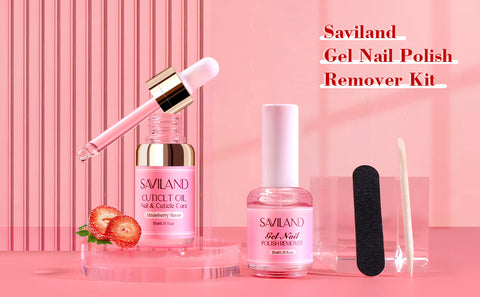 Product Specifications:
Capacity: 15ML
Flavor:  02strawberry
Package Includes: a 15ml/0.5fl.oz nail polish remover, 15ml/0.5fl.oz nail cuticle oil, a wood stick and nail file
Used For: Nails remover, including poly nail gel, gel nail polish, nail polish, dark nail colors, dip powder nails (some types), extended nails made of builder nail gel (some types), etc.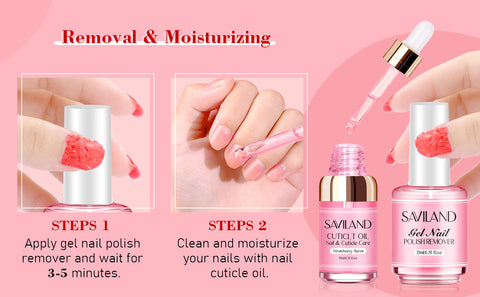 Features:
1. The gel polish can be easily removed from the nails, lightly apply on the nails, wait for 3-5 minutes, the nail polish will burst automatically, then use a small wood stick to remove the residue, use nail cuticle oil to moisturize your nails and protect your natural nail surface.
2. The nail cuticle oil has fragrance with (01lavender/ 02strawberry) and natural vitamin E to relieve nail oxidation. Moisturizes skin, prevents hangnails and strengthens nails.
3. The dropper in the nail cuticle oil is used for precise application, ensuring the freshness of the nutrient oil and reducing waste.
4. The polish remover kit provides moisture to nails, protect and nourish fragile, cracked cuticle, nails and skin, suitable for nail extensions, acrylic powder nails, etc.
5. The ingredients of the nail remover are extracted from natural plants, which are harmless to the human body and have a very light smell. Quickly remove nail gel, reduce friction, do not hurt nails.