Nail Art Foil Glue Gel Kit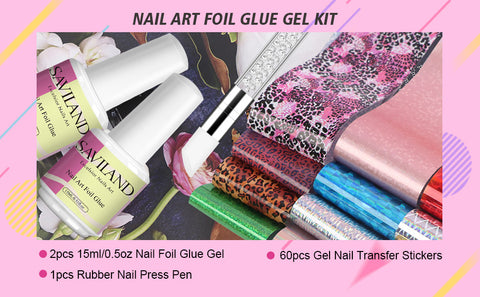 Product Specifications:
Brand: Saviland
Pattern: Leopard Pattern, Butterfly, Flower
Package Includes:
2pcs 15ml/0.5oz Nail Foil Glue Gel
60pcs Nail Art Foil Transfer Stickers
1pcs Rubber Nail Press Pen
Used For: Nail Decoration, Nail Art Design
Features:
1.The nail design kit include 2pcs 15ml/0.5oz nail foil glue gel, 60pcs gel nail stickers and 1pcs rubber nail press pen.
The nail art foil glue gel kit is made of high-quality materials, safe and healthy.
The nail foil stickers is thin and can fit perfectly on the nail surface with strong adhesive nail foil glue.
Easy to use on acrylic nails, builder extension gels nails, UV gel polish nails.
The nail art foil glue gel need nail lamp to cure for 30-60s.
Suitable for nail lovers and professionals.