[US ONLY]Dipping Powder Liquid Set - Activator Base Top Coat and Brush Saver
✈️Shipping within 2 business days
✈️Free returns within 30 days
💰Subscribe & save BIG for first order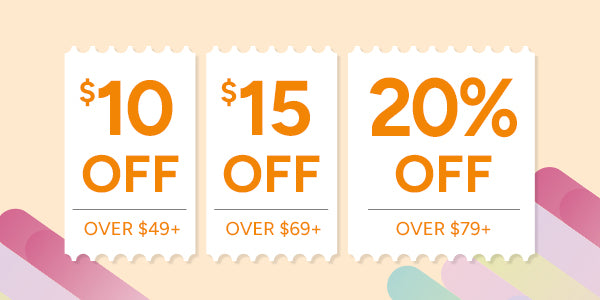 Product Specifications:
Brand: Saviland
Capacity: 15ml/bottle
Package Includes:
1*15ml base coat
1*15ml top coat
1*15ml nail activator
1*15ml nail brush saver
1*dip powder holder
1*nail file
1*nail buffer
1*nail dust brush
2*replacement brush
1*wooden stick
1*cuticle pusher
1*cuticle trimmer pusher remover
Features:
Base coat: sticky, able to dry quickly, as well as allowing better coloring of the impregnating powder.
Activator: to speed up the drying process and make the impregnating powder solidify on the nail quickly.
Top coat: makes the nail surface more shiny and prevents nails from peeling, scratching or cracking.
Brush saver: clean the brush, remove residue from the brush, keep the brush clean and convenient for next use.
5.Saviland dip powder liquid professional and complete set of matching tools, also comes with two replacement applicator brushes, saving you 50% of the time and money to buy additional nail tools.
Easy to use, no need of nail lamp to cure, quickly dry, reducing the possibility of poor quality nail lamp damage to the skin, making nail art easier, more time-saving and safer.
The dip powder liquid made of healthy ingredients, safe and non-toxic, no irritating odor, harmless to nails, while also preventing nail cracking, making nails shiny, play a protective and reinforcing role.
Suitable for all kinds of nail types, either the nail or the nail piece can be applied, the nail after use has high hardness, good stability and toughness, not easy to break or fracture, lasting up to 3-4 weeks.
Suitable for professional nail artists and nail art beginners.
Warm Tips:
Place in a cool place and prevent direct sunlight. Keep out of the reach of children.
Tighten the cap immediately after use to reduce the contact with air.
After using the activator, you need to wait for the desiccant to dry before applying the next layer.
Dip at a 45-degree angle and pull straight back out. Do not push the nail against the powder.
When tapping off excess powder from the nail, the Saviland nail dust brush to remove excess powder.
The brush saver is used to clean the nail brushes between and during applications. Wipe the brush on a clean cotton to minimize build-up of product in between layer.
Do not overly bruise the nail plate or use sharp tools to scrape off the coating.
No need of UV/LED nail lamp, our product is 100% Vegan and cruelty-free, no-toxicity and low odor.
?