100 Sheets Nail Glue Sticker Kit
🎁Enjoy Multi-type Free Gift orders over $59/$69/$109/$129/$159/$179
✈️Shipping within 2 business days
✈️Free returns within 30 days
💰Subscribe & save BIG for first order
customers are viewing this product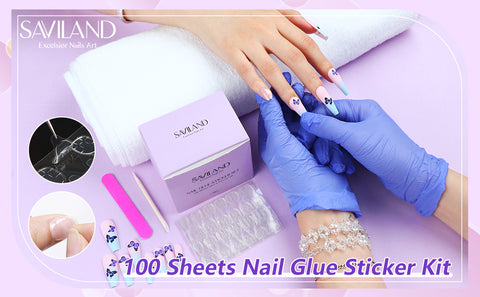 Product Specifications:
Brand: SAVILAND
Colors:Clear
Package Includes: 100 sheets of nail adhesive tabs, 24pcs per sheet, 12differernt sizes of nail glue stickers on each sheet, 1*small wooden stick, 1*nail file.
Used For: Press on nails, fake nail tips, nail art.
Features:
1. 100 sheets nail glue stickers, perfect for long-term use, 24pcs & 12 sizes nail glue stickers per sheet, suitable for all nail types and nail tips.
2. Easy to use, even a beginner can effortlessly make nail art with our nail glue sticker.
3. Used it correctly, the nail glue sticker can stay on your nail surface for more than 5 days because of super sticky.
4. Healthy ingredients, non-irritating, no harm to nails, eco-friendly.
5. Easy to remove, used with the equipped small wooden stick and nail file can make the remover process more effective.
6. File and clean the nail surface before sticking the nail glue sticker can get a better long-lasting effect.