31PCS Dip Powder Nail Kit - 20 Colors Pink Nude Spring
🎁Enjoy Multi-type Free Gift orders over $59/$69/$109/$129/$159/$179
✈️Shipping within 2 business days
✈️Free returns within 30 days
💰Subscribe & save BIG for first order
customers are viewing this product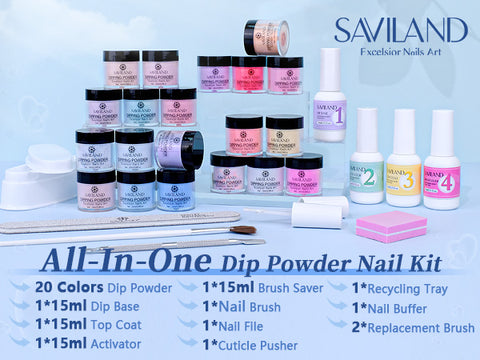 Product Specifications:
Brand: SAVILAND
Dip Powder Capacity: 10g/0.35oz
Dip Powder Liquid Set: 4*15ml/0.5fl.oz
Colors: 20 Colors
Package Includes: 20 colors dipping powder, 1pc 15ml dip base, 1pc 15ml dip top coat, 1pc 15ml nail activator, 1pc 15ml brush saver, 1pc dip powder recycling tray, 1pc nail dust brush, 1pc nail file, 1pc nail buffer, 1pc cuticle pusher, 2pcs replacement brushes.
Used For: Dip nails, dip powder nail art design.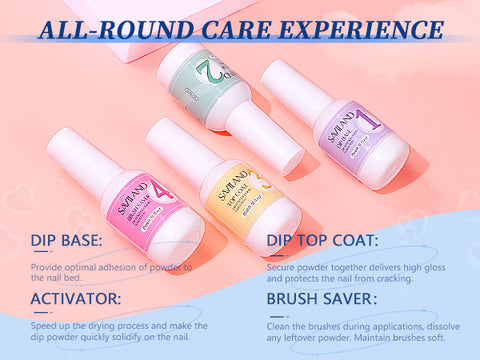 Features:
1. Saviland dip powder nail kit includes carefully-selected 20 colors of dipping powder, dip powder liquid set and nail art tools for you to create unique dipping powder nail art designs.
2. The colors of the dip powder are on-trend and vibrant, you can mix them to create your own new colors according to your needs.
3. No need nail lamp. The operation process is easy and fast. Suitable for beginners, nail lovers, and manicurists.
4. The dipping powder is both a healthy and natural formula, which are harmless to the nails, and at the same time can prevent the nails from cracking, make nails shiny, and play the role of protection and reinforcement.
5. Brush saver can clean and dissolve the remaining powder on the brush and prevent the brush from hardening.
6. The dip base is adhesive and quickly dry, so it can provide the best adhesion of dipping powder. Dip top coat is applied at the last step, which can provide luster to the nails and protect the nails from chipping or cracking.
7. Activator can accelerate the curing of the dipping powder, and it can provide abrasion resistance to the nail, no need to use a nail lamp.
8. The manicure created by our dip powder is delicate, natural, light, firm, with very good luster and durability, not easy to yellow, crack and fall off, and lasts for up to 21 days.
9. It is suitable for all kinds of nails, The nail after use has high strength, hardness, good stability, and toughness, and is not easy to break, helping you to create durable and long-lasting nail art.