4PCS Pink Acrylic Nail Brush Set Size 6/8/12/14 - Glows In The Dark Handle
Product Specifications:
Brand: Saviland
Capacity: 4 pcs
Package Includes: 4pcs pink fluorescent acrylic nail brushes
Used For: Acrylic application, acrylic powder, nail extension, nail carving, acrylic 3D nail art design.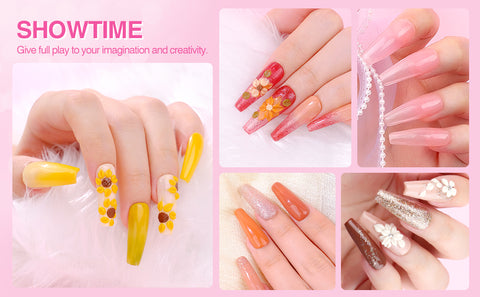 Features:
1. Saviland acrylic nail brush set have 4 different size 6#, 8#,12#, 14#, 6#, 8# are suitable for nail carving, 12#, 14# are perfect for nail extension. All of them can use for acrylic nail application.
2. Premuim and gorgeous appearance, pink body with glitter and sequins inside the quicksand handle, lightweight and comfortable to hold,
3. The copper tube locks the nylon brush hair firmly, not easy to fall off. And the bristles have good water absorption, soft and smooth, very easy to apply.
4. Suitable for starter and nail manicurists using in nail salon or DIY at home.
5. Exquisite package for being a great gift to your friends or lover and with a protective cover for bristles to keep the nail brush clean for long-term use.
How to use:
1. FIRST USE: Soak the acrylic brush in hot water (above 176°F) for one minute to wash off the sealing wax from the surface of the acrylic brush, then wipe back and forth on a paper towel to completely remove the wax layer.
2. USAGE: Dip the acrylic brush lightly in the acrylic liquid, then tab an appropriate amount of acrylic powder. (It should form a small bead that looks like the consistency of a gel. ) Then apply it to your nail's surface evenly, and wait it dry.
Tips: When creating acrylic nails, the operation time is controlled in 10-20s, otherwise, the powder will solidify on the acrylic brush leading to clumping.
3. CLEANING: After each use, clean the acrylic brush with brush saver or acrylic liquid immediately.
Pro Tip: (Do not be too harsh or aggressive, you want to avoid fraying or damaging the acrylic brush. )
Then remove your brush from the liquid and once again, leave the brush to air dry on the towel.
4. MAINTAINING: Wrap the acrylic brush in the Saviland acrylic brush conditioner for a while, (the higher the dryness degree, the longer the wrap) and then blot it slightly dry with a cotton pad.

Q&A:
Q: How to keep the acrylic nail brushes for longer use?
A: Make sure to clean the acrylic nail brush immediately after each use to prevent hardening. Do not rub back and forth vigorously when washing. After air dry, cap it with the clear cap on the brush head and put it back in the brush tube holder. For longer usage, if encounter nail brush forked, you can use Saviland nail brush conditioner for acrylic brush maintenance.

Q: Is it comfortable to hold it?
A: Yes. Saviland acrylic nail brush not only has a stylish appearance and also has an ergonomic handle, comfortable to hold, and easy to operate.

Q: Can the acrylic nail brush be used for builder nail gels?
A: No, they are two kinds of different nail brushes. Acrylic nail brush is only used for acrylic powder.

Q: What can these nail brushes do?
A: You can use the acrylic brush for acrylic application, like acrylic nail extension, nail carving with acrylic liquid and acrylic powder. The nail brush can lift a smaller bead of acrylic (powder with liquid) effectively and get your ratio of liquid to powder correctly with more control.