All-In-One Poly Nail Gel Kit for Beginners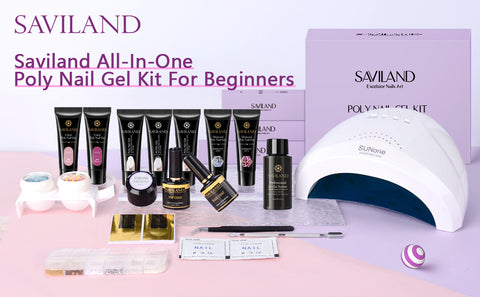 Product Specifications:
Brand: Saviland
Capacity: 15g/0.53oz each bottle
Colors:7 colors
Package Includes: 7 colors nail extension gel, 1*slip solution, 2*base & top coat, 1*48W nail lamp, 1*nail decoration kit, 1*nail file, 1*nail buffer, 1*dual forms set, 1*nail art tweezers, 1*nail glue gel, 20*nail forms, 1*dual-end nail brush, 1*cuticle pusher, 10*cotton pads, 1*double cup plastic nail art cup.
Used For: Nail extension, adhesive diamonds, nail reinforcement.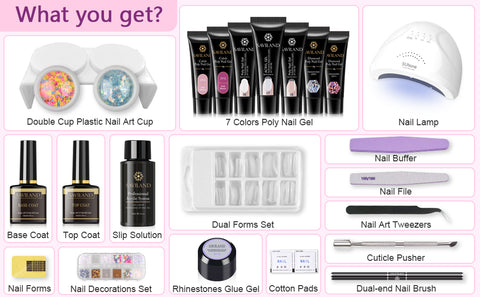 Features:
1. All-in-one poly nail kit is equipped with everything you needed, value for money, giving you a more convenient nail art experience.
2. Multi-functional poly nail gel make nails more attractive.
3. Easy to use, coming with everything you need to get started. Even a beiginner can easily create nail salon effects at home.
4. Natural resin, non-toxic, low odor, no harm to nails and human body.
5. Non-yellowing, not easy to fall off, long-lasting.
6. Professional nail lamp, dry quickly, harmless to eyes and not darken hands.
7. Suitable for all parties and occasions.
8. An ideal gift for girlfriend, family, friend.