500PCS Clear Medium Coffin Nail Tips and 4 in 1 Glue Gel Kit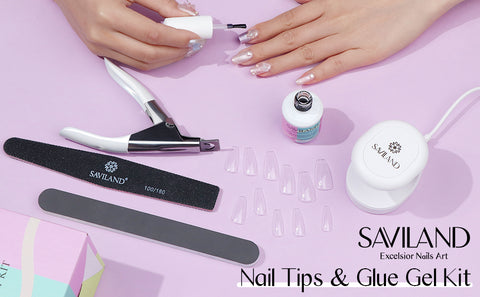 Product Specification:
Capacity: 15ml/0.5oz nail glue gel
Package Includes:
1*15ml/0.5oz nail glue gel
1*portable nail lamp
500pcs clear medium coffin full cover nail tips
1*nail file
1*nail clipper
1*nail buffer
Used For: Nail extension, nail art design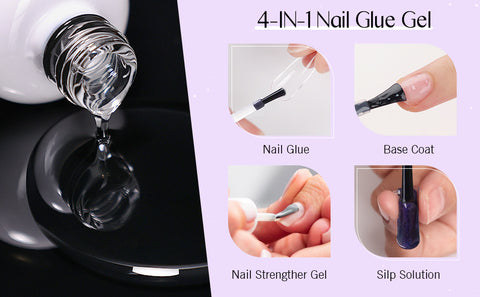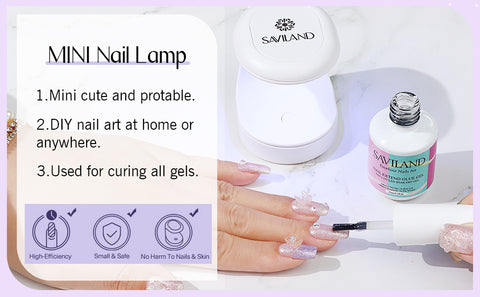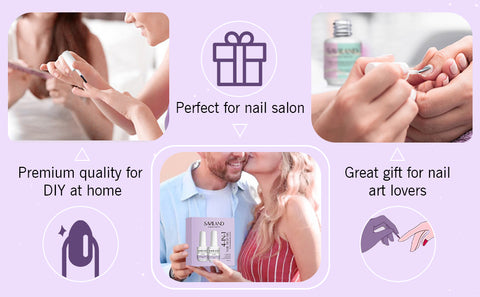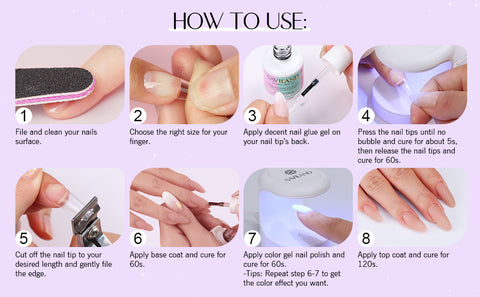 HOW TO REMOVE?
1. Cut off the overlong nail tips.
2. Use a nail file or nail drill to remove nail tips.
3. File and polish the nails to smooth it out, apply cuticle oil to moisturize nails if needed.
Warm Tips:
1. For external use only. Keep out of the reach of children.
2. Keep the 4-in-1 nail glue gel in a cool place, avoid direct sunlight.
3. Before using, buff each nail surface and clean them to remove any excess oil, so that can provide a proper adhesion foundation for nail tips.
4. It is not recommended for people with thin nails to use gel as a base coat, otherwise it will feel hot during curing.
5. If you use it as a base coat, please apply it thinly, and it is difficult to remove because of the strong adhesion of the gel.
6. Saviland nail glue gel is not sticky before curing, so please use a nail lamp to cure for about 60s when using it. Saviland brush on nail glue gel is strong, but it's easy to take off by soaking it in remover for a few minutes. After soaking, you can use a nail file to wipe gently(note; just be careful of your natural nail). And until the false nails are completely removed.
7. It is normal for the gel to exothermic slightly when it cures; if you feel burns, move your fingers out of the light in time; wait for the heat to dissipate, and then you can re-cure.