U V Nail Lamp for Curing U V Gel Nails 360° Gooseneck
🎁Enjoy Multi-type Free Gift orders over $59/$69/$109/$129/$159/$179
✈️Shipping within 2 business days
✈️Free returns within 30 days
💰Subscribe & save BIG for first order
customers are viewing this product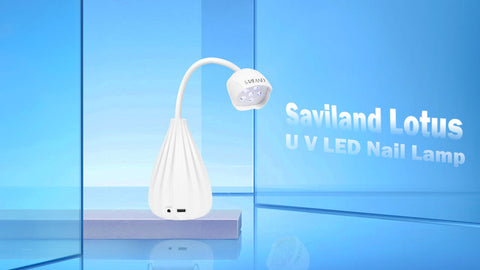 Product Specifications:
Brand: Saviland
Capacity: 24W(MAX) U V LED Chargeable Lotus Nail Lamp
Colors: White
Package Includes: 1*U V LED Chargeable Lotus Nail Lamp, 1*non-slip mat, 1*charging cable
Used For: Nail art design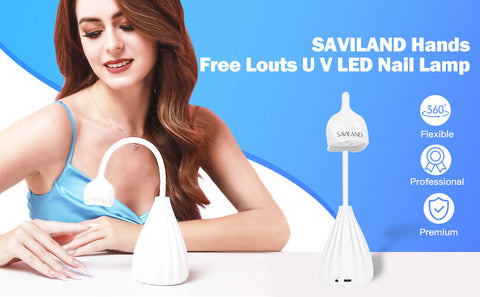 Features:
1. Our manicure lamp comes with a lovely lotus head that is both beautiful and perfect for gathering light sources and curing. An ideal gift for yourself or a friend.
2. Saviland lotus nail lamp has a sturdy and tough silicone tube that can be bent freely and adjusted at any angle to suit different types of nail manicures.
3. Our nail lamp is designed with a 360-degree rotatable gooseneck hose(改成Flexible Hose), which is user-friendly and hands-free, more convenient to operate than traditional nail lamps. It is especially suitable for use when applying nail tips and nail decorations.
4. The nail polish curing lamp is made of high-quality material, and it is strong and wear-resistant.
5. Our nail lamp has 6 U V LED dual light source lamp beads to help your nail art dry quickly and efficiently. Suitable for all types of manicure and nail art, including nail glue gel, builder nail gel, painting gel, gel nail polish, etc.
6. The light of the nail lamp is gentle is natural to your eyes and skin without damage and can protect your hand.
7. The lightweight manicure lamp is dual-use charging and plugging, has strong versatility, Type-C interface, USB charging port, and can be conveniently connected with a computer, power bank charger and power supply, helping you to create nail art anytime and anywhere.
8. Our wireless nail lamp has a built-in long-lasting battery, which can store electricity and can be always on for 2 hours when fully charged, and 6 hours for ordinary nail manicures.
9. The nail lamp is easy to use, with one-button control. Pressing it lightly is the control switch, and pulling it lightly is the timing setting for 60S.