Nail Polish Set - 12 Colors Glitter Nail Polish With Base and Top Polish Coat
Product Specifications:
Brand: Saviland
Capacity: 12 color
Package Includes: 12*nail polish, 1*base polish coat, 1*top polish coat
Used For: Nail Art DIY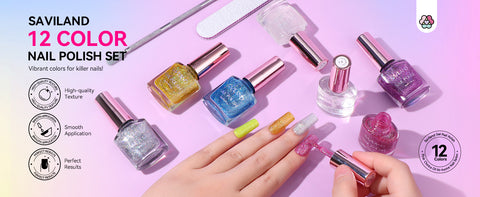 Features:

1. Saviland nail polish is suitable for a wide range of occasions, from everyday wear to special events like weddings or parties.
2. Saviland nail polish set made with healthy and high-quality raw materials, which is toxic-free, vegan and cruelty-free.
3. Don't need a nail lamp to cure this nail polish.
4. Saviland nail polish formulas dry quickly, which is great for those who don't have a lot of time to wait for their nails to dry.
5. Saviland nail polish bottles come with an applicator brush, making it easy to apply the polish to the nails.
6. Saviland nail polish has good pigmentation and lasts for over 2 week with proper application.
7. Saviland nail polish not only is it easy to use, but it is also very simple and convenient to remove. It can be easily removed with a nail polish remover.