Description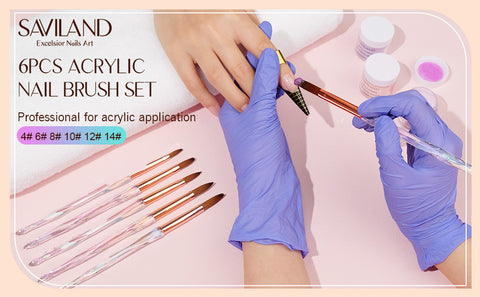 Product Specifications:
Brand: Saviland
Size: 4#(15mm), 6#(17mm), 8#(19mm), 10#(21mm), 12#(23mm), 14#(24mm)
Material: Colorful transparent acrylic handle & Copper tube & smooth?hair
Package Includes: 6 pcs acrylic nail brushes
Used For: Acrylic powder, acrylic application, acrylic nail carving & nail extension.
Features:
1. Easy to use and clean, long-term used.
2. Comfortable, stylish and durable nail brush handle.
3. A separate straight tube to protect preventing forking.
4. Perfect for nail artists, nail starters and nail art lovers.
5. Advanced acrylic nail brushes, can be used to make all kinds of nail art.
6. For nail salons, home nails and mobile manicurists.
7. These acrylic nail brushes are made with smooth?hair, which possesses non-deformation, non-corroding characteristics.
8. The nail's art brush is lightweight and comfortable, easy to hold to draw, smooth application, and convenient for you to do nail extension and nail carving.
Warm Tips:
1. There will be a layer of sealing wax on the surface of the new acrylic nail brush. The first time you use it, soak it in warm water for a minute or two to wash off the sealing wax on the nail surface.
2. Place the acrylic nail brush in a cool place, and keep the nail brush in an upright position, away from direct sunlight.
3.Do not rub back and forth forcefully when washing the acrylic nail brush.
4. If the bristles are forked, the brush should be soaked in hot water(176℉ above) for 30-60s, and let it dry naturally.
5. The acrylic nail brush can only be used for acrylic powder, not be used for gel nail polish or other U V gels.
Q&A:
Q: How many sizes are there in this acrylic nail brush set?
A: 6 nail brushes, 6 different sizes.Size 4-8# are perfect for nail carving, 10-14# are for acrylic powder nail extension.

Q: Is it comfortable to hold it?
A: Absolutely. Saviland acrylic nail brush not only has a gorgeous appearance and also has an ergonomic handle, comfortable to hold and easy to operate.

Q: How to keep these acrylic nail brushes for longer use?
A: Clean the brush after each use and dry it in the right way.

Q: Can this acrylic nail brush be used for builder nail gels?
A: No, they are two kinds of different nail brushes. Acrylic nail brushes only used for acrylic powder.

6pcs Acrylic Nail Brush Set Size 4/6/8/10/12/14