7PCS Rainbow Colorful Acrylic Nail Brush Set
🎁Enjoy Multi-type Free Gift orders over $59/$69/$109/$129/$159/$179
✈️Shipping within 2 business days
✈️Free returns within 30 days
💰Subscribe & save BIG for first order
customers are viewing this product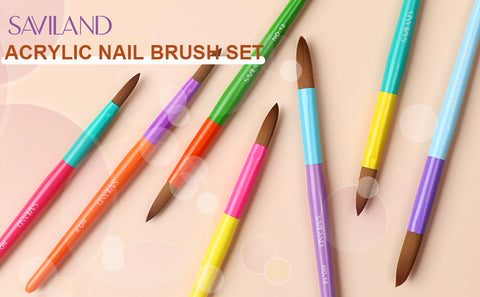 Product Specifications:
Brand: Saviland
Size: 6# 8# 10# 12# 14# 16# 18#
Material: Wooden handle & Copper tube & Nylon hair
Package Includes: 7 pcs acrylic nail brushes
Used For: Acrylic powder, acrylic application, acrylic nail carving & nail extension.etc.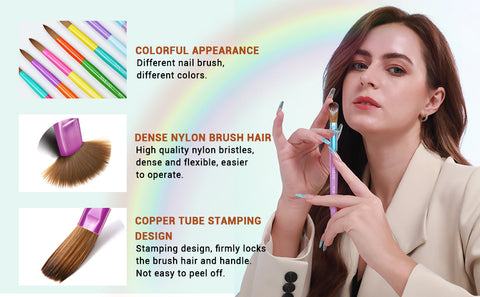 Features:
1. Saviland acrylic nail brush set contains 7pcs different sizes of acrylic nail brushes, 6# 8# 10# 12# 14# 16# 18#.
2. 6# 8# 10# are suitable for nail carving, Size 12# 14# 16# 18# are perfect for nail extension. Suitable for any acrylic application.
3. Saviland acrylic nail brushes are made with colorful wood body, copper tube smooth nylon hair, simple, fashionable and work so well.
4. Saviland acrylic nail art brush is ergonomic, the handle is comfortable to hold, the bristles are smooth enough to operate.
5. A great partner set to do various acrylic nail extensions and nail carving.
6. Suitable for nail art beginners DIY at home or professionals in nail salons to create various acrylic nail art designs.