Description
Product Specifications:
Brand: saviland
Capacity: 10g/bottle dipping powder
Colors: as picture shows
Package Includes:
20 colors 10g/bottle dipping powder
1* 15ml base coat
1* 15ml top coat
1* 15ml activator
1* 15ml brush saver
2* substitute brush
1* cuticle pusher
1* nail file
1* cleaning brush
Used For: nail decoration
Features:
20 colors dipping powder: multiple choice and mixing up casually and creating personality nails
Base coat: It is adhesive and quickly dry, so it can provide the best adhesion of dipping powder.
Activator: It can accelerate the curing of the dipping powder and it can provide abrasion resistance to the nail without using nail lamp.
Top coat: The last step is to apply top coat. The top coat can provide luster to the nails and protect the nails from chipping, scratching and cracking.
Brush saver: Brush saver can clean and dissolve the remaining power on the brush and prevent the brush hardening.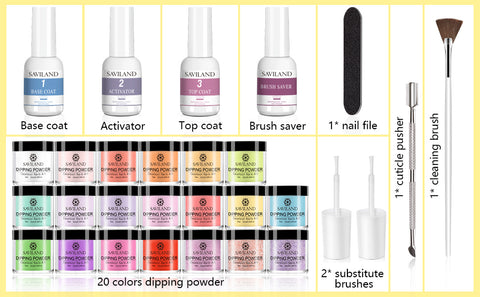 ?