Saviland Nail Polish Organizer And Storage
Product Specifications:
Brand: Saviland
Colors: Pink
Size: 13 in*8.5 in*9.5 in
Used For: nail tools storage, mobile manicure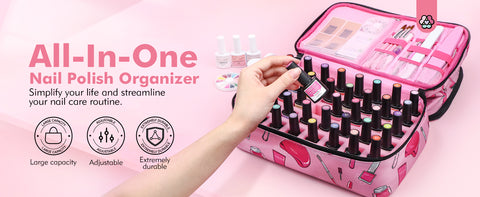 Features:
1. Made of 300D wear-resistant snowflake material (polyester), with a waterproof coating on the outside for waterproof and dirt-resistant properties.
2. Saviland nail polish organizer is filled with pearl cotton material, making the entire bag stand upright and not easily collapse.
3. Each position in the nail polish organizer is classified according to the commonly used gel polish, nail powder, and others nail tools by manicurists, providing accurate storage functions.
4. The logo is printed on the front of the bag, using leather label, synthetic leather + silk screen logo, which has a high-quality texture.
5. A strap is also provided on the Saviland nail polish organizer that can be fixed to a suitcase. It also includes a pocket design for users to place their mobile phones or other small items conveniently.
6. Comes with fixed sponge nail polish tray keeps the bottle upright and prevents it from tipping over.
7. Two pearl cotton partition bars are included on the upper layer, which can be freely adjusted according to the items the user needs to place.